"Ask JH Nordic" we love hearing from you and helping get answers to all things Jackson Hole Nordic skiing, Fat biking, and Snowshoeing. We will point you to the right trail, the right place for clinics, rental equipment, grooming, etc. Simply email info@jhnordic.com and we will circle back as soon as we can.
See below with some of the questions we've fielded.
From TH:
Hi – My wife and I are headed-out to Jackson for the month of February. We skate ski. Your site has some great info for places to go, grooming reports, etc. Thanks.
Question regarding the places that list trail fees: Can you pay the fees the day of skiing, or do you recommend (do they offer) purchasing fees in advance?
Thank you, TH
JHNordic reply:
Thanks for the nice feedback.. Glad this information is useful for you and your wife.
For trail fees, no need to purchase in advance. The trail are never crowded, so always plenty of Nordic ski passes.
Conditions are superb, so you will enjoy skiing here.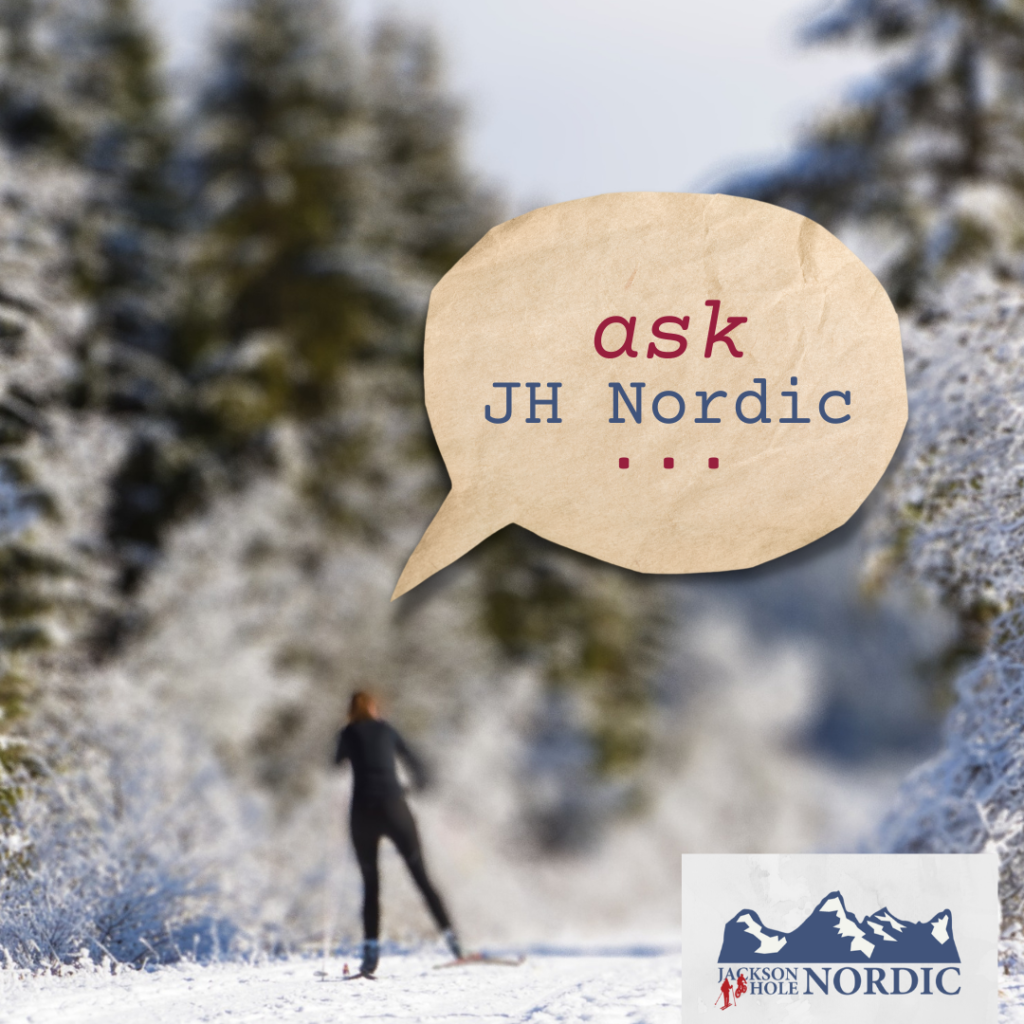 From Andrew O:
Hello – I'm coming from out of town and curious about the Taggart to Signal trail. Wondering what time the groomers typically head out in the morning and from which direction? I have a flight to catch Friday afternoon and really hoping to squeeze in some skiing Friday morning before I leave. Thanks!!
JHNordic reply:
This Friday is the last grooming day in Grand Teton NP – Taggart to Signal. The groomer normally heads out from Taggart at first light – around 7-7:30 am, reaching Signal around 10:30-10:50, depending on snow. then turns around and heads back south.
Hope you can enjoy it this week!  After that, Crust cruising over the frozen snow crust in GTNP is your best bet ..
From Beth G-H:
Hello! Looking for intel on grooming / conditions from Taggart to Jenny. I'll be in JH next week (coming from Utah) and saw that the trail is groomed on Tues / Fri. Does it tend to get messy by Wed? We have high volume on public groomed trails in Utah (and currently no fresh snow!) – sometimes the day after is not that great for skate skiing. Thanks in advance!
JHNordic reply: Hi -the further one skis from Taggart trailhead side, the better the groomed track stays after grooming. After the first mile (the trail is groomed for 14.4 miles up to Signal Mountain), there are very few tracks. You can also start this trail from the Signal Mountain side (north side). A longer drive to access, however very few skiers and tracks. We skied from Taggart to Jenny Lake yesterday, and due to colder morning temps, very few people on the trail, even at 11am. This is one of the most strikingly beautiful Nordic trails anywhere, so don't miss it! Enjoy!
Beth G-H: This is awesome intel – thank you so much! I am meeting friends in Jackson and not sure I can swing Tuesday (grooming day!) but should be able to get there Wed afternoon. I live in Park City and the day after a groom is something not worth it with the XC traffic here. I'm excited to try this beautiful trail!
From Eileen B., Vermont:
Hi, my husband and I are visiting from Vermont, staying in Jackson. We would like to go cross country skiing today (Monday) to a local favorite trail. We have a car. What would you recommend?

JHNordic reply:
Hi Eileen, Since today is a sunny , blue sky day, and tomorrow we are expecting snow, we recommend you take advantage of one of Jackson Hole most beautiful Nordic ski trails, Taggart to Jenny Lake via the groomed trail in Grand Teton National Park.  with wide open views of the Grand Teton and central core of the Teton Range, skiing from Taggart trailhead to Jenny Lake in Grand Teton National Park. The trail is relatively flat, wide open, groomed 3 days a week, directly below the Grand Teton (13, 770 ft). For trail map, directions, trail information, go to here. We recommend making a donation to the Grand Teton National Park Foundation, who organizes and financially supports winter trail grooming.
A good choice for a groomed trail for Tuesday, with snow in the forecast, we recommend a trail with woods for better visibility : Trail Creek Nordic or Cache Creek are 2 local's favorites.

Eileen B:
Thanks for the suggestion to ski out to Jenny Lake today!!  The most amazing day surrounded by incredible beauty.  Conditions were great, and going down to see the lake was pretty straightforward.  Really appreciate all your help!
---
Madeline: I hope you are having a lovely Sunday. I was hoping to get the local scoop on Nordic ski trails throughout the area. I have explored your website and was slightly overwhelmed at all the locations. Therefore, I was wondering if you could give me a recommendation for a trail that is either groomed or single-track, has spectacular scenery, won't be too icy, is anywhere from 3-6 miles in length, and isn't too trafficked. I am planning to travel to the area on Monday (1/16) and would greatly appreciate your input.
JHNordic reply: Thanks for getting in touch. We are having beautiful weather, so I would recommend a trail with nice big Teton views.

If you have a car, one of our favorite groomed trails is in Grand Teton National Park, a 20 min drive north of Jackson. Drive to Moose, then to Taggart Trailhead. The road is closed for Nordic skiing at this point. Grooming on Tues, Fri, Sun, so not icy. Big Teton views. You can ski out as far as you wish then turn back. See the list of favorite ski trails in GTNP.

If you do not have a car, I recommend taking the local START bus to Stilson. Get off the bus, walk east back toward the Snake River, cross under the road via a bike path tunnel, walk or ski across the river to Emily's Pond levee trail. It gets a lot if dog walkers, so will be hard packed- Groomed Tues , Thurs, Sat.
A third choice is to ski at Teton Pines Nordic center. Groomed daily. Ski pass: $20 you can take the bus to the Westbank Center/ Aspens stop and walk 100 yards to the Nordic center. 10 miles.
Hope this helps.. Each of these trails are on the JHNordic.com/trails/ page for more info.
---
Dave G: I'm a pilot for Delta Air Lines and I'm scheduled for a layover in JH this coming weekend. I'll be staying at the Snow King Lodge and would like to know the closest and most convenient place to rent xc skis and get in a few miles the morning before I fly out. Thanks for the assistance and looking forward to my stay.
JH Nordic reply:
For XC ski rentals, there are 2 stores on/ near Town Square: Skinny Skis and JD High Country Outfitter .
For info, see : JHNordic.com/resources/
The closest groomed Nordic trail to Snow King is Cache Creek. You can take a taxi there or perhaps the hotel can drop you there. It does climb a bit, so if you prefer a flatter trail, you can take the START Bus to Stilson and ski there (Stilson Loop, Wilson Centennial trail) or walk east a few hundred yards to the Snake River to Emily's Pond trail, with beautiful views of the Tetons and Snake river.
Teton Pines Nordic Center is also accessible via START bus, with nordic ski rentals and a 12 km groomed trail.
You can find trail maps, elevation profiles, descriptions on: JHNordic.com/trails/
Hope you have an enjoyable ski!!
Andy W:
This year I sought out some urban Nordic adventure with my ten yr old a few minutes after the dog sled race at Town Square. We did our own countdown with a couple straggling spectators at the town square start line, & raced one another down Broadway to the hospital & up Redmond, then over the SK hotel hump to the finish in Phil Baux Park. This could become a fine group activity with a tiny ask of permission. Even a display of Nordic sprint racing for the uninitiated general population.
Speaking of urban xc skiing… re: the above question from the Delta pilot – great recommendations to Skinny & Jack Dennis & Stilson. Also for convenience, Hoback Sports rents waxless ski setups. School tracks are easy to get to via START OnDemand & bus.
---
Dave M: We are considering a last minute trip to visit our daughter in Jackson the first week of April (or possibly the last week of March).  I would most appreciate your advice on xc ski conditions to help us make a decision on when best to visit. Of course its weather dependent, but will most grooming come to an end before April 1 this year?  For example, how late in the season is the NP Taggart/Jenny Lake trail groomed? When do the xc ski centers in the valley typically stop their grooming.  Thanks for any details and thoughts you can provide.  Hope to see you soon!
JH Nordic reply:
I would recommend coming in mid-late March, as we have had a lower snowpack this year than is typical. While it is impossible to forecast the weather for the next month, most of the grooming will end mid March (i.e. Grand Teton National Park, Parks & Rec public trails, Teton Pines).
Trail Creek and Shooting Star normally continue grooming until April 1st. And if our snowpack holds, we often get excellent skiing on top of the snow crust , known as "crust cruising" across the open meadows in GTNP, starting at the Taggart lake trailhead, north and east. See this article for more info: https://jhnordic.com/crust-cruising-grand-teton-national-park/
Grand Targhee and Teton Canyon in Teton Valley ID often continue grooming into April . And there are several non groomed cross country trails that have good spring snow, such as Rosie's Ridge on Togwotee Pass.
Enjoy your visit.. and feel free to check our daily Trail Reports to track how the grooming and snow conditions are prior to coming. Posted every early morning on: JHNordic.com/trailreports/
---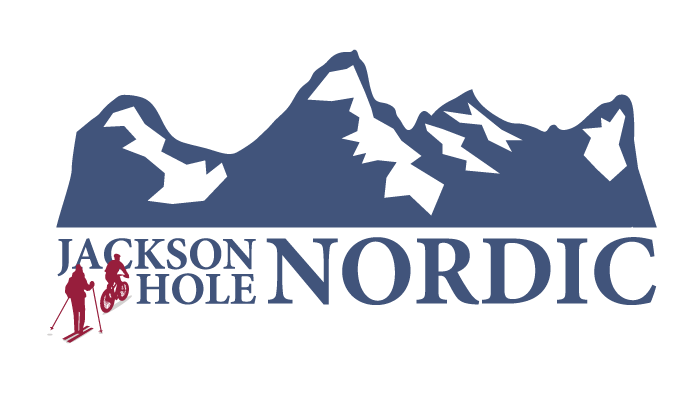 Write a Review for JH Nordic
JHNordic.com is a community-oriented resource, designed to identify, map, describe, and share, all the best trail information on the extensive, extraordinary Nordic skiing, Fat Biking, and Snowshoeing in the Jackson Hole/ Teton Valley/Greater Teton region of Wyoming and Idaho.